Pharoah Sanders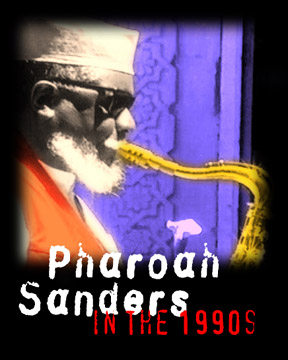 Pharoah Sanders, originally Farrell Sanders from Little Rock, Arkansas, became well-known in the local jazz scene in Oakland, California, in the early 1960s. In the middle of the decade he moved to New York, where he worked with Sun Ra and other luminaries of the new jazz avant garde. He was asked by John Coltrane to join his group in 1965, and so became a part of Coltrane's most experimental unit. After Coltrane's death in 1967 he continued in musical collaboration with Coltrane's second wife, Alice.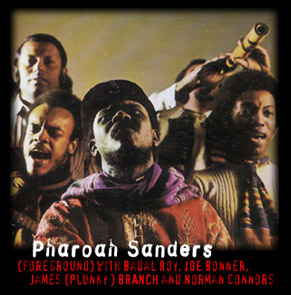 Sanders is known for a distinctive sound, including a split reed technique. While primarily playing the tenor sax, he has also recorded playing the soprano sax, flutes, and percussion. He can coax unearthly sounds from the tenor saxophone, and, according to jazz legend, can cause a saxophone to continue to shriek for minutes after removing it from his mouth.
Through the 1970s he explored the melding of West and South African rhythms into free jazz, experimenting with layers of percussion and voices. By the late-'70s he began, like many jazz musicians, to coat his spiritually-tinged jazz with a glossy pop-funk sheen; in his case produced by drummer Norman Connors. In the 1980s he changed course to play the standards. In 1996 he returned to his "Nubian space jazz" sound with A Message from Home. He has also recently recorded albums in collaboration with African Gnawa musicians and in tribute to his mentor John Coltrane.
His most well-known work is "The Creator Has A Master Plan".
---
Recordings As A Leader
PHAROAH' S FIRST
ESP 1964. No producer listed.