Gato Barbieri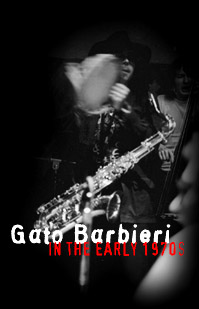 Argentine saxophonist Gato Barbieri splashed into the European-American avant garde jazz scene in the mid 1960s. His sax playing is unmistakeable, wild and full. He found his voice bringing the percussion and rhythms of South America into his music; while his focus was more cultural than spiritual, his association with keyboardist Lonnie Liston Smith brought his music into the cauldron of musical ferment centered around Pharoah Sanders. It should be suggested that the Indian (native American, that is) and Afro-Brazilian rhythms infused into Gato Barbieri's music all had their roots in indigenous religion.
Barbieri has had several distinct phases in his career: first, as an avant gardist (mid-1960s); second--his most "kozmigroov" period if you will--incorporating "third world" roots, culture, spirituality, and politics (late '60s/early '70s); third as a reasonably succesful pop jazz artist (late '70s/early '80s); fourth as an artist struggling to reestablish an identity (1980s); and finally, in 1997, a return to pop jazz. If my own favorite period is the second, none are completely without merit: his tenor sound is so full of personality and identity it remains compelling even as the material veers to shlock.
---
Gato Barbieri: JAZZ MANIA ALL-STARS
(Italian label) 1960/1998. Produced by ?