John Coltrane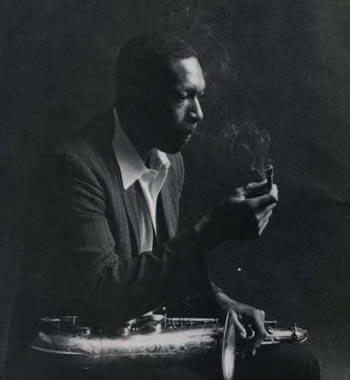 John Coltrane's most spiritual period was while he was an artist recording on the Impulse! record label. Transcending at times the limits of melody, his Impulse! work was bravely experimental and hugely influential. His landmark work of the period is of course "A Love Supreme."
Coltrane was one of the foremost of the 1960s jazz revolutionaries. But if he and such fellow innovators as Miles Davis and Ornette Coleman led jazz away from its comfortable foundations together, they did so in distinctly different ways. If Davis and Coleman led jazz off in brave new sensual and intellectual directions, it was Coltrane who pursued its spiritual dimension. One might contrast, for instance, Coltrane's spiritual awakening with Miles's drug addiction: both otherworldly experiences--both quests for the experience of ecstasy--reframed the artists' creative expressions, but in profoundly different ways. And these differences are readily apparent in the music itself.
That the impetus for his revolutionizing of jazz was his spiritual awakening is plainly evident in his music. What doubtful critics at the time characterized as "angry" sounding can be reunderstood as communicating the intensity of spiritual experiences not easily otherwise communicated by speech or lyric. Many non-European religions share an understanding of music being a spiritual tool to induce trance or ecstatic religious experience. And Coltrane was doubtless highly influenced by the many non-Western religions being explored by the African-American and artistic communities in the United States from the mid-'50s on. Several jazz writers have commented, for instance, on how Yoruba drummer Baba Olatunji's landmark 1959 album Drums of Passion fascinated Coltrane and dramatically effected his thinking about music.
John Coltrane's work is the subject of tremendous study and research: frankly I'm no expert on it. The following discography consists only of highlights: it lists only those of his works fitting in the general scope of his 1960s spiritual explorations.
---
Recordings as a Leader
A LOVE SUPREME
Impulse! Records 1964. AS-77. Produced by Bob Thiele.